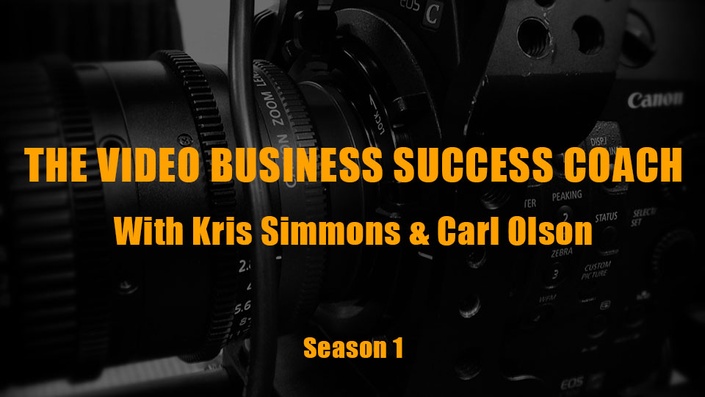 The Video Business Success Coach - Season 1
Kris Simmons - The Video Business Success Coach - and digital media creative Carl Olson, help you get your video and digital media business game on!
Are you a highly-paid digital media creative?
Do you feel like you're making enough money with the passion, talent and skills you have as a video producer?
What if you had access to rock-solid business strategies all in one place that can help you attract more clients with bigger budgets?
Digital Media veterans, Kris Simmons and Carl Olson, have worked hard over the past year to do just that.
Introducing The Video Business Success Coach – Season 1.
Featuring almost 12 hours of "no fluff" coaching broken down into 10 to 20-minute sessions, Carl Olson drills "The Video Business Success Coach" Kris Simmons on how to grow your company, how to get the best return on your marketing and selling efforts and how to keep customers happy so they reward you with additional projects long into the future.
Coach Kris tells you exactly how to build and manage a team that delivers outstanding results without costing you a fortune. He also reveals the insider secrets discovered in his 20+ year career as an award-winning video producer that have proven to help his business win more projects and increase profits year after year.
Are you feeling stuck and not sure what to do next to get your business on the path for success?
So was Kris and he offers solid advice and motivation for how he escaped the quick sand and started to realize his dream as a highly-paid creative professional.
Why Should You Enroll?
If you engaged Kris as your personal Video Business Success Coach, it would cost more than $2,500 for him to teach you all the strategies he and Carl have made available in this course.
With The Video Business Success Coach – Season 1 you'll have the coach himself right in your earbuds pumping you up and motivating you to grow your business with proven, actionable strategies–all for only $97.
• Listen online or download the audio files into your favorite player so you can take "The Video Business Success Coach" with you.
• Absorb the coaching sessions while you're running errands, working out at the gym, cutting your grass, or when you're on your way to another sales meeting or video shoot.
• Most sessions average 10 to 20-minutes so they're easy to consume without getting in the way of other important business or personal activities.
What's Inside the Course?
• Almost 12 hours of Audio Coaching Sessions (37 Topics)
• More than 5 hours of Exclusive Video Coaching Sessions available only to current members of Kris' KRE8 University membership program
• Kris' Best-Selling eBook The Six-Figure Videographer which offers you his blueprint for generating a six-figure income as a digital media creative.
What Will You Learn?
• Why you need to pay yourself first before anyone else
• How to get more business from larger clients when you implement Kris' Outbreak Marketing Method
• How to use his Blow Fish Marketing Strategy so you can compete with larger, more established video producers
• How to go Deep Sea Fishing so you can be better positioned for catching the Big Kahuna video client
• Why it's important to Add a Zero when you are planning the future for your video production company
• Why you need to have an Agency Mindset if you hope to experience huge growth
• Why every client needs to experience The Wow Factor and how to give it to them
• How to use Income & Expense Ratios so you can protect your profit margin and never stress out about what to pay freelancers again
• How to surgically remove stressors that can lead to burn out
• What to do when a client cancels a shoot at the last minute
• Much, much more! Scroll down to view a complete class curriculum
What's The Next Step?
After enrolling in this course today, take some time to casually listen to sessions that are most relevant to the challenges you are facing in your business right now. This will get your heart pumping, creative juices flowing and will help to jump start your brain into thinking strategically about how to grow your video business.
Then, once you are ready to start applying these strategies in a way that can put you on the fast-track to becoming a highly-paid creative professional, Kris and Carl suggest you follow this simple, yet very important 4-Step Action Plan.
1. Start each week by listening to one coaching session.
2. Note actionable items related to that specific strategy.
3. Make a good faith effort to apply the strategy before listening to the next coaching session.
4. Track your results to determine which strategies work best for your business and develop a plan to make sure they remain part of how you run your company from that point forward.
So, what do you think? Are you ready to get serious about your future in this industry?
Enroll today and let's do this!
Your Instructor
Kris Simmons is the founder of KRE8 UNIVERSITY, an online membership program and exclusive community dedicated to helping independent video producers and freelance professionals learn how to start, manage and grow a successful production company.
Kris' expertise is derived from 20+ years in the industry as a multiple award-winning video producer and entrepreneur.
As Executive Producer & CEO of 6 STRONG MEDIA, Kris successfully delivers hundreds of video productions each year for large corporations, small businesses and non-profit organizations located througout the United States, Canada, Europe and Australia.
Some of his most notable clients include ABC Sports, Alstom, AstroTurf, BlueCross BlueShield of Tennessee, Boy Scouts of America, Chick Fil A, First Tennessee, GameTime, General Mills, Mohawk Flooring, Murphy USA, Nike, Shaw Floors, Unum Group and US Xpress.
Since starting his career as a business owner, Kris has pitched, sold and produced more than $4,000,000 in video production projects and has developed a rock-solid business strategy that has enabled him to consistently generate a six-figure income every year since 2004.
He was selected as Tennessee's "Young Entrepreneur of the Year" by the U.S. Small Business Administration in 2004 and the "Young Alumnus of the Year" in 2009 by his alma mater, Carson Newman University. He has also been profiled in a feature article by INC. magazine and has won numerous awards from local, national and international video production and business organizations.
Kris has served as a business advisor for video producers since 2007 and in that time, more than 10,000 industry professionals across the globe have benefitted from his membership programs, eBooks, information products, one-on-one coaching sessions, podcast appearances, articles, videos, newsletters, webinars and speaking engagements.
Get these bonuses!
Over five hours of video recordings of coaching calls by Kris Simmons
Downloadable ebook: The Six-Figure Videographer by Kris Simmons
Frequently Asked Questions
When does the course start and finish?
The course starts now and never ends! It is a completely self-paced online course - you decide when you start and when you finish.
How long do I have access to the course?
How does lifetime access sound? After enrolling, you have unlimited access to this course for as long as you like - across any and all devices you own.
What if I am unhappy with the course?
We would never want you to be unhappy! If you are unsatisfied with your purchase, contact us in the first 30 days and we will give you a full refund.
What is the format of the training?
Season 1 of the Video Business Coach contains 37 episodes of audio-only files in MP3 format. You can listen to each episode in your browsers or download the files to you computer for listening offline.
How long are each episode?
Most episodes are between 10 to 20 minutes. A few are longer. There are three extended coaching sessions that are between 45 minutes to about an hour or so.
These episodes were originally in a free podcast. Why should I buy this?
It's true. Much of this content was available free in almost 40 episodes of the Digital Convergence Podcast. However, several listeners have asked me to separate the Video Business Success Coach segments into a separate product to make it easier to find and listen to. You can easily scan through the topics that interest you and listen to it without having to go through an entire episode of the Digital Convergence Podcast. I've also removed music and other extraneous stuff so that you can get right into the coaching session without delay. We also include several valuable bonuses: 1) You get a Kris Simmons' downloadable ebook The Six-Figure Videographer. This ebook has helped hundreds of video pros and digital media creatives to grow their business to six figure businesses. 2) You receive FREE over five hours of video recordings of previous Live Coaching calls conducted by Kris Simmons. Each of these calls contains practical tips to get the results in your business.
How may I get the most benefit from this course?
You can listen to the episodes all at once if you want to and in any order you wish. However, some have found it beneficial to go back and listen to one episode at the beginning of their work week. They jot down a few notes that they put into action in their business for that week. Imagine where your business will be in 37 weeks if you follow this pattern! Whatever approach you take, be sure to jot down a few notes from each lesson and without delay put those notes into action in your business.
What if I have a question about something that's mentioned in the coaching sessions?
Each episode has an it's own comments area that we monitor. If you have a question, please post it there. The nice thing about this is that not only do you benefit from it, so do others that may have a similar question. The comment area is not just for questions, though. If you have a positive experience from applying the lesson in your business, we want to hear about it!
How long is the course?
There are almost 12 hours of audio contained in the 37 episodes in this course. (11:40:38 to be exact). That's not counting the five plus hours of bonus content.
Here are what our listeners are saying:
"The tips you get from the Video Business Success Coach are great. A must for small business owners in the "digital creative" space!"–Listener in Austria
"I have been in video for 10 years at a company. I have been floundering in building a side business. It is most delightful that the convergence of video and business is now a primary focus... Kris Simmons, the Video Business Success Coach, has given great advice to shape my thoughts for future growth."–Jason
"Useful information in all aspects of media even the business side of it. Thanks Carl!"–Wayne
"I gotta hand it to you... what a fantastic resource you have provided... I must say that this podcast is the best of the best when it comes to the business of video production. I truly appreciate all of the business insight that you devote to each episode. You cater to everyone, from wedding shooters, corporate, commercial, and film. I firmly believe that all production professionals can learn something from your show. Keep up the good work. I hope that the next time I find myself filming in the south (which happens a few times a year) that I can shake your hand."–Joe
"As a joyous learner you leave me with hours of valuable research after every episode and valuable insight after valuable insight. If you are a video professional this will absolutely increase your bottom line whether that be earnings, quality of work, or personal fulfillment. Congrats, Carl!!!!"–C.Powell
"A great kick start for myself and my mind frame to push myself beyond just going back to my previous notion of freelance."–Dave
"DCP is one of my favorite podcasts and the @kre8insights [Video Business Success Coach Kris Simmons] stuff is pure gold"–ReelArtsMedia
"Such a wealth of information. I am grateful to have access to this kind of content. Thank you Carl."–Arthur
"Kris Simmons and Carl Olson have great insights into the video business!"–Kent
"The show is filled with great information that is applicable to the real world today. I often find myself pausing the podcast so I can take time to jot down some notes."–Pat
"Carl Olson consistently delivers excellent educational value through real conversations that show his deep interest in the video production industry. Keep up the great work!"–Travis
"You have shined a light on so many subjects, and I can't thank you enough."-Rick
"I'd highly recommend to anyone who wants to grow in their production ability, no matter where you are in your career."–a listener in the USA
"It makes for both practical and inspirational listening."–Ron
"It would be foolish NOT listening to your episodes, and I also learn a lot about proper marketing from Kris Simmons. Thanks again for everything you do, and don't ever think it doesn't have an impact on people. It does!"–Alex
"Listening… has been pivotal for my business, inspiring & informative."–a listener in Canada
"I know times are tough, and so many creative people in the world deeply appreciate the effort that you go to. Please don't underestimate the education and growth that you bring to their lives."–Peter
"I have to say the value of your podcast has been exponentially valuable... I had always considered myself relatively savvy with estimates and proposals, but literally after investing in Kris Simmons' proposal templates… the first two proposals I wrote after receiving that stuff totaled close to $60,000. We got both bids! So, it's hard to argue the fact with that kind of math. I even got compliments from the suppliers of the RFP on professional everything looked. It made us look like a million bucks. So, thank you for the podcast, keep up the good work, and I will certainly continue to listen. There's certainly valuable, useful information for everyone to take advantage of."–John